.
How To

Easily

"Stack Sats" While Using the Protection of a
Bitcoin IRA to Protect Your
Money From High Capital Gains Taxes
Even If You Don't Know Anything About Cryptocurrency
Updated August 20, 2021  |  BY CLINT WHITNEY
In 2021, big institutions like Tesla and Microstrategy, Trusts like Grayscale, and even big banks who said "never" to cryptocurrency just a few months ago have already begun buying Bitcoin or announcing the development of a cryptocurrency department.  They don't want you to know about how powerful a Bitcoin IRA will be on your wealth and Uncle Sam certainly doesn't want you to save on capital gains taxes.
In fact, over 7,000 businesses attended the MicroStrategy conference in Feb 2021 to learn how to protect their company's stock holdings and not have to take on any more debt.  This means Institutions are not just taking notice, they are stepping into the ring and are ready to jump in.
Most of the businesses, like our silly elected officials in the United States, cannot even begin to describe what cryptocurrency really is or the tech development that is behind it which is revolutionary to decentralized banking, insurance, smart contracts, and more.
Yet these same people have finally realized crypto is not going anywhere and the only way to get the highest returns is to get in now before the general public figures it out and starts buying.
The Opportunity of a Lifetime to have First Mover Advantage
Hello and welcome to HighInterestEarning.com.  My name is Clint Whitney and my desire is to give you the first-mover advantage even if you don't know anything about cryptocurrency!   Right now, you will even beat out most of these gray-haired companies that are dragging their heels and be able to actually change you and your family's future.
I don't know about you, but I can't work any harder, and yet it often feels like why do I even bother?
Today you benefit from my over 10 years in the cryptocurrency marketplace.  I have been able to change my stars.  So I pledge to share with you what I know to help you make the most informed decision so your stars change, too.
Understanding Why Businesses Are Considering Bitcoin?
Why are they considering Bitcoin?  What added asset value are they expecting?  Are there other solutions instead?  How can I Start a Cryptocurrency Retirement plan and join in the fun, too?
Individuals should be asking the same questions, but many aren't.
The reasons institutions are moving into Bitcoin are simple: It's another way to make money, protect their money, and show incredible growth and earnings for their companies. 
The company is happy.  Stockholders are happy.  Banks are happy.  Win. Win. Win.
It just so happens that absolutely ANYBODY can do the same thing for their own retirement account!
Here you will discover how important this very moment is in your life.  Look back at how much money has already been made and where Bitcoin is projected to head.
You Are Still Early!
Believe it or not, even at a $44,000 Bitcoin, you're still early!  With a long-term perspective, we are extremely early and what professionals are saying, Bitcoin could grow to be over $10 million dollars, Ethereum could grow to over $100,000 in just the next few years.
Open a Bitcoin IRA in as little as 20 minutes
How can you open a Bitcoin IRA?  Well, do you have 20 minutes?   I'll share more with you later but this is often people's first objection.  They don't know where to start or who to trust.
I'll point you to a trusted financial advisor that can get you set up with a self-directed Roth IRA or transfer your existing accounts all while adding additional portfolio diversification like Bitcoin, Ethereum, Chainlink, and others.  The opportunity to protect your future, your family, and your spending power is right now.
Where do you see your Retirement 1 to 10 years from now?
For many, we avoid asking this question because we see it as an attack.  However, what we really have done is fear we won't be able to change our future and it's easier to not think about it.
If you knew you actually had a way to start to saving and growing your money without working more hours or finding a 3rd job, would you start?
Where do you see your retirement as you look back just 12 months from now?
Considering the information I'm about to share backed by over 10 years of
data, do you feel you have exhausted all the investment vehicles available to you?
Ask yourself:
Do you trust the dollar?
Do you trust your government?
Do you feel everything will be fine?
….or do expect this stock market, Fed printing dollar facade to come crashing down?
Would you be open to learning about something different?
Is a Bitcoin IRA relatively new?  Yes.
Is it complex?  It can be but we have a solution that removes all that stress as well.  It all depends on how deep into the rabbit hole you want to go.
The goal here is to make it super easy & fun for you to get started today and begin enjoying the potential gains for which Bitcoin has historically proven to give.  Thus putting yourself and your family on a path that has the potential to be absolutely life–changing.
Click Here to Get some FREE Info
Disclaimer: This article should not be considered financial advice.  Please consult your certified financial advisor prior to making any investment decisions.  You will have an opportunity to speak to one with this recommended company.  This site is not responsible for ill-conceived, careless, reckless, or theft-related monetary or crypto losses on the reader's behalf and by reading this and being on this website you agree to not hold HighInterestEarning.com or its subsidiary companies or sponsors responsible.  Cryptocurrency can be considered high risk and you should not invest any more than you are willing to lose.  Additionally, this site contains affiliate links which, at no extra cost to the customer, we may receive a commission.  We love what we do and work hard to bring the very best education and quality solutions to our customers all around the world.  Crypto on!
Bitcoin's APY Average
Bitcoin has appreciated an average of roughly 200% a year for the last 10 years (only if you've held and not sold and not including taxes).  Clearly beating out the S&P 500 of a measly 15% APY.  My 20 year Roth IRA, which I was super proud of until Crypto, is only getting 14.37% APY.
Now get this, the rate of inflation, loss of spending power, has the value of the dollar decreasing at an astonishing 15% APY in 2021.  NONE of my present investments were even keeping up with the downfall of the dollar!  This data is always changing because it's a market currency.  If you live in America, the only thing you realize is products and portions are getting smaller and your grocery bill has gone up a lot.  That's what we're talking about here.
The solution that I've been researching for over 10 years is Cryptocurrency and where it's headed.
Conclusion:  Today, I've moved most of my Roth IRA into a Bitcoin IRA.  Why did I wait?  The options just weren't available, the market was still extremely risky (and still maybe but I feel the holding the dollar is even riskier), and regulation was still limited which meant mass adoption was still a ways off.
Today, that has all changed.
It is super easy to open a Bitcoin IRA so you can turbo-speed your retirement plan.  In fact, we've been waiting for this day since 2013, actually.  To get into Bitcoin with the Bitcoin IRA means you use a self-directed account or work with your hedge manager.
What profits will this mean for the average retail investor?
The profits we are talking about is a once-in-a-lifetime opportunity to turn a small amount of cash into a fortune.  It's an opportunity to be part of the greatest wealth transfer in the history of the world.  This is not an exaggeration.  Bitcoin is expected to be $1,000,000 by the end of 2022 and an astonishing $10,000,000 between 2024-2025.  This is not a drill.
Though only time will tell, the Stock-to-Flow (see picture below) model predicts that #bitcoin will reach a new ATH of more than $85K roughly one year after the May 2020 halving ?

Big Names Are Launching Crypto Projects and Investing Into Bitcoin
Here are just a few big names that are pouring millions of dollars into Bitcoin and cryptocurrency/blockchain technology:
Microsoft, Black Rock, MicroStrategy, IBM, to just name a few gigantic names, and several Billionaire investors (except Warren Buffet…but he didn't like Apple, Amazon, or Google, either).
Present reports reading like this:  Bitcoin (BTC) at $44,588 and Ethereum (ETH) at $1,397.
Wait until they read like this in the latter part of 2021:  Bitcoin (BTC) at $140,345 and Ethereum (ETH) at $20,000.
The price alone doesn't paint the full picture.
The biggest reason we are bullish on digital assets is not that Bitcoin and microcurrencies such as Ethereum, have outperformed every other asset in recorded history.
Instead, the greatest reason we are bullish is that we're seeing microcurrencies make their way into every aspect of our lives.
In fact, US employees are getting their paychecks in digital coins.
More Americans Can Get Paid in Microcurrencies
Sequoia Holdings, a software development company, is now offering its staff the option to receive a portion of their salary in digital coins.
The company boasts big-name clientele like the United States national security sector, Homeland Security departments, and Defense departments.
Employees can now choose to defer part of their salary and invest it in either Bitcoin (BTC), Bitcoin Cash (BCH) or Ethereum (ETH).
Co-founder and CEO, Richard Stroup Jr., said this about their new paycheck program:
"Many of our employees are enthusiastic supporters of cryptocurrency, and we are excited to help them gain access to this trillion-dollar asset class.
We are proud to give our team members the opportunity to easily invest in cryptocurrency and increase their savings. Crypto has become an important alternative to traditional investments such as stocks and bonds."
Will There Be more Companies Joining Bitcoin IRA and Other AltCoin Investment Programs?
I expect many other companies to begin offering similar microcurrency investment programs.
Employers will offer micro-investing packages alongside their current retirement plans, which will cause the digital market to swell with new investors.
It won't be long before your 401(k) goes micro as well.
As more time passes, more and more people are starting to realize that microcurrencies are legitimate investments.
And one major bank expects digital coins to replace gold.
This Bank Says Microcurrencies Could Replace Gold
The Bank of Singapore announced that microcurrencies have the potential to replace gold as the preferred safe-haven asset.
But before they can replace gold, the bank said that microcurrencies must overcome a few obstacles.
Mansoor Mohi-uddin, the chief economist at the bank, said:
"First, investors need trustworthy institutions to be able to hold digital currencies securely. Second, liquidity needs to improve significantly to reduce volatility to manageable levels."
But these aren't terrible problems, instead, they are the natural growing pains of an asset.
The only reason Bitcoin (BTC) and other digital coins experience these obstacles is because digital assets are still so new.
It's easy to forget that the digital market is barely ten years old. It isn't even a teenager yet.
And it's still early to get in.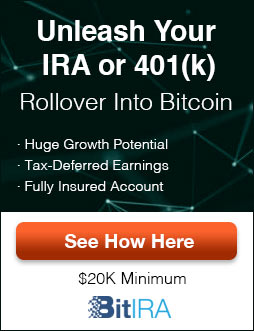 That's why despite these "obstacles" the wealthy elite and financial institutions continue to stockpile digital coins.
In fact, one former White House Insider said yesterday that BTC is currently just as safe as gold and government bonds.
Former White House Director Equates Bitcoin's Safety to Gold and Bonds
We've been following Anthony Scaramucci, the former White House Director of Communications, ever since his investment firm went micro.
His firm, SkyBridge Capital, has been making headlines because of its microcurrency investment services.
Now, the executives at SkyBridge are saying that Bitcoin (BTC) is as safe an investment as gold and government bonds.
Scaramucci and SkyBridge COO Brett Messing published their microcurrency research findings on CNN Business yesterday.
Their goal was to debunk the false myths that surround digital assets. They said:
"Increased regulations, improved infrastructure, and access to financial institutions – like Fidelity – that hold investors' money have made bitcoin investments as safe as owning bonds and commodities like gold, which are also used to balance portfolios."
They did a great job of explaining the current state of the digital market.
The Final Chapter Towards Global Asset Adoption Is Near
This is what I mean when I say that the microcurrency sector is just now starting to mature: we are starting to see clear regulation, strong infrastructure, and financial institutions that are specifically made for digital coins.  The final chapters are being written.  The new book will be: How a Global economy thrives using Bitcoin and other Cryptocurrencies.  The talk of the dollar will disappear.  The dollar won't necessarily disappear, but its global recognition as the world's currency will move to Bitcoin, not the dollar.
Mark my words, right now is the perfect moment in history to profit from the digital transition.
Take it from Scaramucci and Messing. They concluded their CNN Business opinion piece with this:
"When investing in an emerging asset class, there is always an inflection point – a moment where there is enough of an infrastructure to allow for wider adoption while still leaving room for appreciation. We believe that we're at that moment with bitcoin."
All the price momentum we are seeing right now is a direct result of this inflection point.
We are at that point in time where one tiny little push is all it will take for the entire microcurrency market to soar to new heights.
I've got sources all over the world telling me exactly what is going on in the microcurrency space.
There are people that just "see it."  These are the pioneers of our time.
This is me.  Now it's you.
Get Started Now & Open Your Bitcoin IRA.  Click the Picture to Sign Up For FREE, No Obligation!